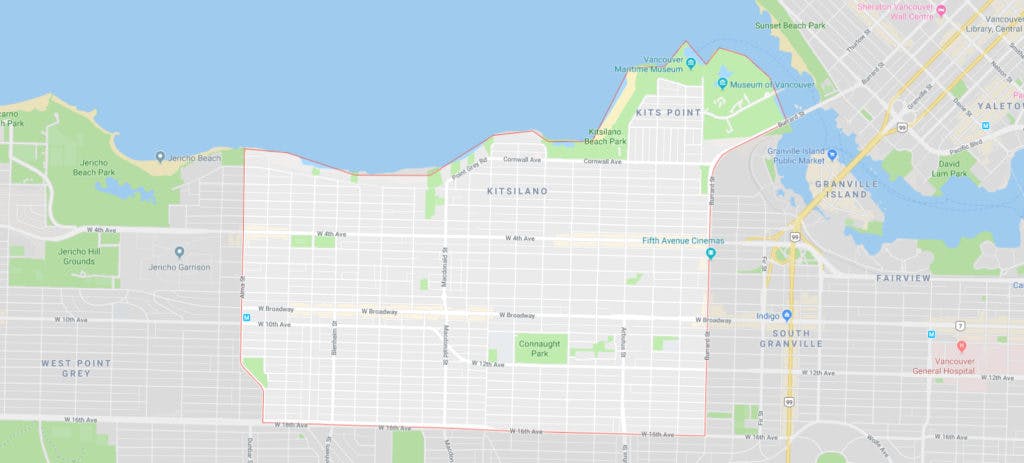 BOUNDARIES:
Burrard Street West on 16th Avenue to Alma, North to Point Grey Road and East to the Burrard Street Bridge
COMMUNITY:

In the 1960s, beachside Kitsilano was Vancouver's hippy hangout, drawing comparisons to San Francisco's Haight-Ashbury. Today, Kitsilano still has plenty of culture, but its apartments and houses are now occupied by young urban professionals and families who enjoy a modern version of that relaxed atmosphere – this is the birthplace of global yoga brand, lululemon athletica. Just over the Burrard Bridge from the downtown peninsula, the neighbourhood brings together a collection of attractions, beach and parks, residential streets, and a couple of main commercial districts. "Kits," as it's known locally, is bordered by the waterfront to the north and West 16th Ave to the south; Burrard Street to the east and Alma Street to the west. Most of the commercial activity is along West 4th Avenue and West Broadway, but you'll also find shops and restaurants in the areas close to the beach.
Should you want to explore housing options in the Kitsilano community, don't hesitate to reach out to our team. We look forward to hearing from you!
SCHOOL CATCHMENTS:
Elementary Schools
Bayview
Henry Hudson
False Creek
Lord Tennyson
General Gordon
St.Augustine
High Schools
Kitsilano Secondary
Lord Byng Senior Secondary
Independent Schools
Fraser Academy
Private Schools
Crofton House School
Little Flower Academy
York House School
St. Johns
St. Georges (Junior) School
St. Georges (Senior) School
If you are thinking of selling, Sean would be more than happy to give you a current and complete market evaluation of your home.
LISTINGS: Current Active Listings in Kitsilano